by admin on Jul.16, 2010, under Concerts, Events, Media, Music, Photography
translation service
The piano trio is where my friend Paul Plimley really lives. Yes, I can interest him in electronics; and he does play guitar, vibes and percussion — but he really lives his most joyous moments with bass and drums.
The trio with Barry Guy, Paul Plimley and Lucas Niggli was one of my personal highlights from the 2010 Vancouver International Jazz Festival. They reached the highest levels of improvisation in ensemble performance where they meshed into a texture of beauty and complexity that shone with emotion.
Lucas Niggli is a Swiss drummer who plays with style and delicate strength. He stretches the boundaries of percussion while playing in the pocket for the band. This balancing act displays the greatness of a drummer; too much steady time keeping and the innovative spark fades, too much of stretching one's own personal boundaries and the connection with the ensemble is lost.
The photos show the level of communication and emotion present in the Ironworks as each of these expert musicians wholeheartedly joined their considerable individual talents into a cohesive whole.
Barry Guy (below) is a bass player living in Switzerland, who plays with Lucas often. This evening of music allowed him to display many extended techniques and timbres. He played with intelligence, skill and unrepentant emotion. His composition, Fixed, Fragmented, Fluid; had been played as one of the festival opening works in a larger ensemble that included this trio. That was structured improv, but this was free and he was able to fly with his fingers and bow with authority.
There was a Canadian pianist who completed the trio named Paul Plimley. I must admit to being biased when I write about Paul, but I have seen him play in Vancouver many times, and grace the stage of the Ironworks with other trios. This was one of the best performances I have ever witnessed from the maestro. The combination of Barry Guy and Lucas Niggli challenged, supported, encouraged and battled with Paul in the most delightful way possible. There was always a spirit of fun and several times the joy crackled in the air like electricity.
I was a photographer that evening, soundless and motionless focusing on the light and motion as I was transported by the music.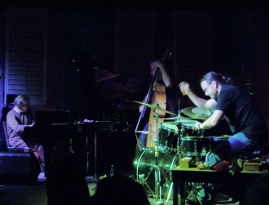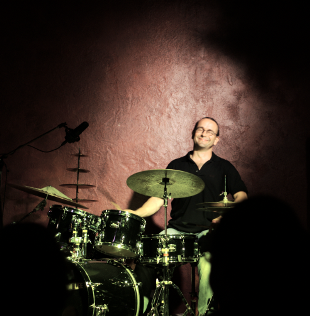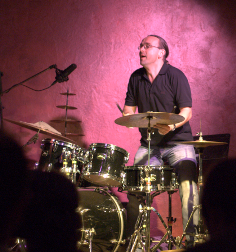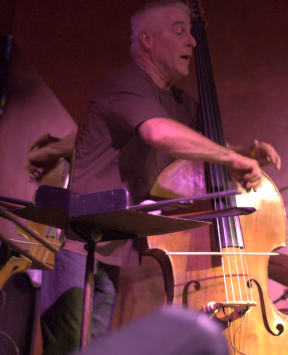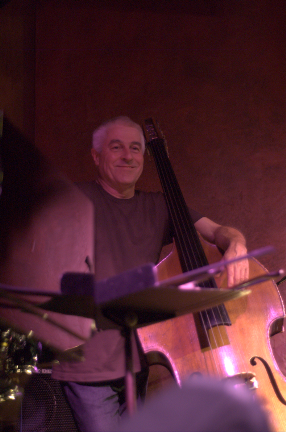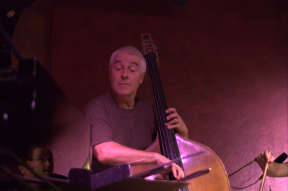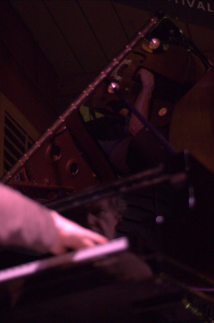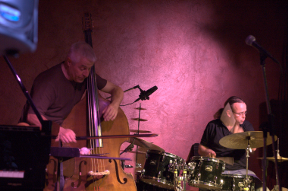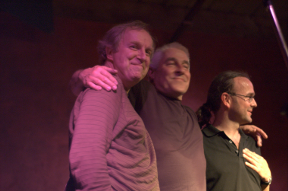 There are other photos of a larger ensemble concert featuring these three musicians taken by Chris Cameron posted on the Coastal Jazz website here.
Did you like this?
If so, please
bookmark it
,
about it, and subscribe to the blog
RSS feed
.
:Barry Guy, concert, improvised music, Lucas Niggli, Paul Plimley, Vancouver Jazz Festival, Victoria Gibson, vix.ca